Presence
Mercury is a gray sphere with grey spots representing craters and mountains on its surface with a shadow on the right.
Bio
Mercury likes to hide behind the Sun so when someone says something when someone says something that Mercury can joke about. He also has a pet parrot.
Coverage
Textingstory
On Mercury + Sedna | Ah , deaf again! Sedna wanted to get something over with with Mercury but got of track , Mercury said "What" as to be confused but Sedna said he was deaf . Mercury needed to rest but Sedna would not leave him alone . Mercury was getting confused and Sedna called him abusive . Sedna said abusive because in the Pokemon games , when a pokemon gets confused they either hit them selves or attack the other opponent with no problem . Mercury said "ARE YOU SERIOUS?!" to Sedna but she replied with "No I'm Sedna " Mercury , at this point , was getting annoyed and posted some angry and sick emojis and Sedna only just found out that Mercury was sick . Mercury was so annoyed he started swearing all of a sudden (Mercury never normally swears) and Sedna replied with "Ok I will turn of the light switch" Mercury wanted to sleep but Sedna said something nice to Mercury , she said "Polite" and Mercury was confused and asked "what?!" and she was being silly again and said "deaf again" . After that Mercury started to scream like [bad word] . Sedna was confused and put question marks , Mercury replied with "Deaf" But Sedna did not put what in her message , when she texted that to Mercury said that she just texted what . The video ended with Sedna saying "Okay... BYE"
On
Ceres + Planets | Jokes on you Ceres was telling jokes to Almost every planet + the Moon . Ceres was asking Mercury for some curry because Mer-Curry and Mercury sarcastically laughed.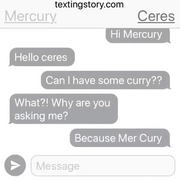 Mercury + GQ Lupi b | Who the hell are you!? Mercury got a mysterious text from someone called GQ Lupi b , Mercury was freaked out and started to swear . GQ Lupi b introduced her self and Ceres randomly joined the chat and called her freaky . Mercury told Ceres to shut up because it was rude . Mercury asked GQ Lupi b who gave her this contact , she replied with "Some dude named the fun" and Mercury corrected her with "You mean the Sun?" GQ Lupi b knew she got the name wrong but now she knows . Mercury asked her if she was a star or a planet , she had no idea even though she should know , she looked on wikipedia and it said that she was an Exoplanet but she and Mercury got confused with the star that GQ Lupi b orbits (GQ Lupi b is a Exoplanet)(GQ Lupi us a star) Mercury said that wikipedia is a bad source for information but GQ Lupi b said everyone makes mistakes and Mercury agreed to that . She wanted to give Mercury a fact , the fact was that she is bigger than Jupiter , Mercury replied with "BLOODY HELL YOU BIGGER THAN ME!!" . GQ Lupi b only just found out that she was talking to Mercury , Mercury was confused because she texted him fist . Mercury wanted to leave but he forgot that GQ Lupi b could also text the Sun , the 7 remaining planets and the 5 dwarf planets , GQ Lupi b wanted to text Venus next. GQ Lupi b mistakenly called Venus a "he" instead of a she.
In Mercury + Makemake , Mercurys New Pet , Mercury wants to show Makemake that he has a pet and wants him to guess what it is , he first says dog , then cat then a mouse and then Makemake gives up and Mercury tells him that its a parrot.
Gallery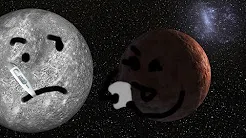 Science Facts
Mercury is the closest planet to the sun
Mercury is the smallest planet in the Solar system (Until 2006)
Mercury grew smaller since he was born
Mercury is the only planet without a circular orbit

Vulcan could be the reason why Mercury's orbit isn't circular

Mercury may have ice on his surface
A year on Mercury is 88 Earth days
A day on Mercury is 58 Earth days
Oxygen , Sodium , Hydrogen , Helium and Potassium is in Mercury's exosphere
Mercury has no atmosphere

Well it has a thin atmosphere
---
Solar System

Stars

Sun
Planets

Mercury ,

Venus ,

Earth ,

Mars ,

Jupiter ,

Saturn ,

Uranus ,
Neptune
Hypothetical Planets
Dwarf planets

Ceres ,

Pluto ,

Haumea ,

Makemake ,

Eris ,

Huya ,

Ixion ,

Orcus,
Quaoar ,

Deedee ,
Sedna ,

Varuna ,

Salacia Farout
Moons

Moon ,

Phobos ,

Deimos ,

Ganymede ,

Callisto ,
Io ,

Europa ,
Titan ,

Hyperion ,

Iapetus ,

Rhea ,

Dione ,

Tethys ,

Enceladus ,
Mimas ,

Oberon ,

Titania ,

Umbriel ,

Ariel ,

Miranda ,

Triton ,

Larissa,

Proteus ,

Nereid ,

Charon,

Hi'iaka ,

Namaka ,

MK2 ,

Dysnomia