| | | |
| --- | --- | --- |
| " | Right so i called the police this onetime to arrest like Niburu so they came there and they asked me where he is and I told them that he was there but it turned out to be our neighbors cat oh did i also tell you about the time that I dressed up like a cow and tripped over a cookie , all my friends were like laughing their heads of like headless chickens then after that the bin came to life and said hi | " |
Bio
Venus is very emotional and gets sad most of the time , since she was crazy she is worried that people would judge her.
Origin
The origin page of Venus will be out soon , here is the current origin of Venus
Venus was rotating the right way like every other planet in the Solar System but a very large exoplanet collided with her and turned her upsidown meaning her south pole is where the north pole should be and her north pole should be where her south pole is. Jupiter , Saturn and Rhea were making fun of her and Earth tried to calm her down.
Texting Story
On Ceres + Planets | Jokes on you Ceres asked Venus if she was a male . Venus was confused so Ceres told her to replace the V in her name with a P , Venus was Furious!
On Random Planets | ???? Venus asked Neptune if he was fine but he told her to shut up because he does not like being called "the coldest planet" . He replied f-fine , Venus was not so sure but Neptune was just bored like usual . Venus told him that she has been in a commercial about cows . Neptune was confused and he wanted to know why and she said "Oh because im so" "HOT" . Neptune said the sun was hotter (Temperature not as in love) , Venus told him to zip the lip but Neptune wanted Venus to make him and Venus requested for a fight but Saturn broke up the fight and Saturn told Venus that if she does not shut up , she will throw Venus in Earths water but Earth did not like that and said that she will chuck Saturns rings into a black hole and she said sorry. Earth knew Venus would evaporate all her water .
On Mars + Earth (Mainly) | Wait this video was ten minutes long? Earth was down and Mars wanted to help her so Mars asked Uranus , Neptune , Saturn and Mercury for some help and Saturn told Venus about Earth so she told Mars to give her a drink . Venus randomly said "HELOOOOOOO VENUS" to Earth but Mars needed her so he can make Earth feel better.
Venus' cow costume is based of Sugars cow costume in her audition tape from Total Drama Pahkitew Island. She also mentioned that she weared it in a party then she tripped over a cookie . The problem is that she has no legs however she could be joking.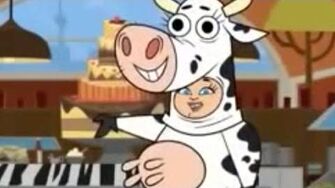 Gallery
---
Solar System

Stars

Sun
Planets

Mercury ,

Venus ,

Earth ,

Mars ,

Jupiter ,

Saturn ,

Uranus ,
Neptune
Hypothetical Planets
Dwarf planets

Ceres ,

Pluto ,

Haumea ,

Makemake ,

Eris ,

Huya ,

Ixion ,

Orcus,
Quaoar ,

Deedee ,
Sedna ,

Varuna ,

Salacia Farout
Moons

Moon ,

Phobos ,

Deimos ,

Ganymede ,

Callisto ,
Io ,

Europa ,
Titan ,

Hyperion ,

Iapetus ,

Rhea ,

Dione ,

Tethys ,

Enceladus ,
Mimas ,

Oberon ,

Titania ,

Umbriel ,

Ariel ,

Miranda ,

Triton ,

Larissa,

Proteus ,

Nereid ,

Charon,

Hi'iaka ,

Namaka ,

MK2 ,

Dysnomia